Our "Rat Pack" team were rewarded to a day trip to Sydney to climb the Sydney Harbour Bridge. This was a reward for hitting targets set for the year.
The team were at Melbourne airport before the sun has risen to catch a flight to Sydney, after the bridge climb they were treated to a delicious lunch, before flying back into Melbourne to end their day.
A great incentive for the young team to push even harder next year with a trip to Vegas in sight!
A delicious reward! A group of sales agents from Ray White Ferntree Gully were rewarded for winning 2 competitions set by sales mentor Chris Watson. The first competition was for the most amount of data gathered in a month. The second competition was for the most face to face with pipeline in a month. The winners and runners up were Thinh Cu, Jimmy Shan and Paul Scott. The winners enjoyed being picked up by a chauffeur driver and driven into the city for a 3 course meal. A well earned reward! Congratulations
Ray White speed dating session

With growing teams at Ferntree Gully, Bayswater, Commercial and Loan Market, we thought it best to hold a "getting to know each other" speed dating session. This morning the team of 70 took a seat not knowing what was to come. With everyone set and timers ready, it was then announced that they would speed date (get to know) each other for 1.5 minutes with each person before moving to the next member. To help them along, there were 20 questions up on a projector and pinned up around the room to help as conversation starters. Questions included "What is your biggest fear?", "If you were a super hero, what power would you have?". With some very amusing answers and some great in depth conversations, the team feel like they know each other a lot better. A great team bonding exercise and a very fun morning.
Aqua Donut Day!
A group of recruitment superstars (anyone who recruits another member to the office), enjoyed a great day out as a thank you.
The days activities were a surprise to the team who were eagerly awaiting their day of fun. At 12pm the group of 13 were picked up from the office by a black stretch hummer and headed to Docklands.
When they arrived at Docklands they walked over to the water where they were met with 2 Aqua Donuts (boats shaped like donuts with a BBQ on board). The day's menu was then given to each team member, esky's loaded on and motors started. Both donuts then floated around Docklands whilst enjoying drinks and a 3 course lunch consisting of entrée of cheese and dips, BBQ lunch for main and for dessert there was fruit, cookies and chocolate truffles!
Once everyone was full and aqua donuts were back to the dock, everyone headed to Woolshed Pub for drinks and laughs before heading home.A great day enjoyed by all!
_______________________________________________________________________________________________________
Legends Day!
There were celebrations all round for the agents of the Ferntree Gully office who made legend status (writing over a certain amount in commission) for the year 2014. The day started with enjoying the views at breakfast from level 35 at Sofitel followed by the group heading to their first activity at the shooting range! Once they'd had fun with a gun and some lunch they then headed to their 3rd and final activity for the day doing scuba diving in Portsea. Needless to say, the team were all exhausted after a fun and legendary day!
Congrats to the 2014 legends club members: Aaron Clarke, Peter Gindy, Ben Thomas and Patrick McConnachie.
_______________________________________________________________________________________________________
A new addition to the Ferntree Gully Loan Market team…
We would like to say a huge congratulations to Ferntree Gully Loan Market broker Daniel Turski and wife Mel for the arrival of their second daughter Cora Belle Turski.
Cora Belle is little sister to Arisah who is already a very proud big sister.
Dan has reported that mum and bub are doing well.
We wish them all the best with the new little addition and the Ferntree Gully team can't wait for a cuddle!

____________________________________________________________________________________________
Ray White Ferntree Gully- silly for a serious cause!
On Friday 29th of June Ray White Ferntree Gully participated in Red Nose Day, supporting SIDS and kids by giving out red noses to the first 50 clients to the office. There were a lot of laughs, some great red nose day photos and lots of kids very excited to receive a red nose (which this year also came with an awesome stick on tattoo!). All the fun and photos were posted to the offices Facebook page so as clients could tag or share their red nose day snaps with friends and family. A great charity that encourages being silly for a serious cause!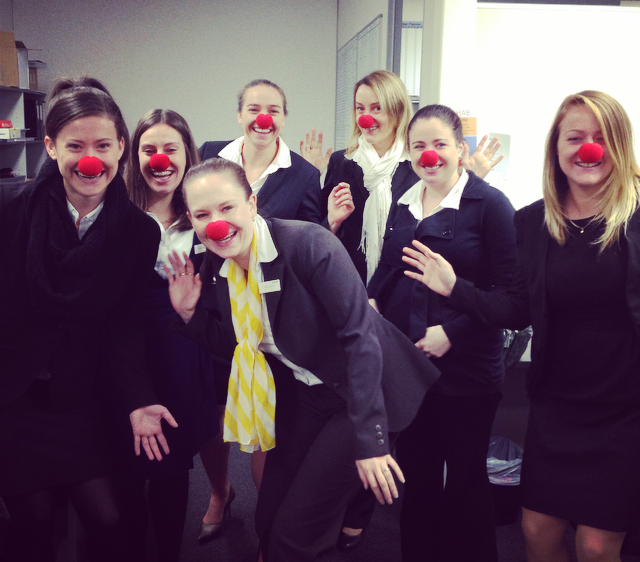 _______________________________________________________________________________________________________
Ray White auctioneer for "Sharing the joy"
– Knox Community Christmas Support.
Last Saturday night, Ray White Ferntree Gully were very proud to help out the Knox Community Christmas support appeal trivia night and launch of the sharing the joy appeal.
Syarif Machfud volunteered his time and skills to call a live auction for some great prizes for the large crowd who gathered at the RAFT Anglican Church in Rowville. The turnout was amazing and the list of items to be auctioned was endless. As well as some great live auction items, there were also numerous silent auction pieces which were a big hit with the crowd. The night raised an amazing $4,800 which will go towards purchasing food and toys for the appeal.
Ray White Ferntree Gully support this great cause each year by running a food drive at Christmas time. Staff, clients and the community all collect non-perishable food items and hampers and drop them off at the Ray White Ferntree Gully office. At the start of December, Knox Community Christmas support members collect the food and hampers and distribute them to families in need.
Ray White Ferntree Gully are very proud to be a part of such a great Christmas initiative and we hope this year we can get loads of food rolling in for families doing it tough.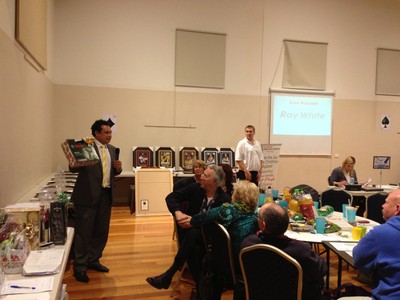 _____________________________________________________________________________________________________
Ray White Ferntree Gully recruiters gone fishin'
Last Tuesday a group of staff members were treated to a surprise afternoon out. These afternoons are rewarded to each staff member who gives the HR department a recruitment lead that ends up in a new staff member being hired.
The group (Matt Sims, Patrick McConnachie, Nick Gurry, Ben Thomas, Aaron Clarke and Byron Sweerts) were surprised with an afternoon that started with a fishing charter in St Kilda which included an onboard BBQ lunch and drinks. The weather was perfect for the trip and the 4 hour charter was enjoyed by all. The group then ended the day with some drinks and a feast at a Spanish tapas restaurant in St Kilda.
The next group of recruiters look forward to the next surprise event!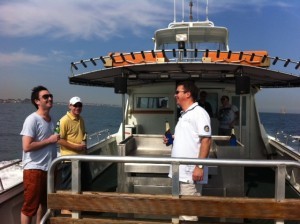 ______________________________________________________________________________________________________
What a legendary day!!!!
Last Friday Ben Thomas was celebrated as the first ever member of the Ray White Ferntree Gully Legends Club. The club was introduced last year to celebrate any agent that writes over $400,000.
The day was jam packed with action starting by picking up 2 sports cars for the day (a Lotus and a Ferrari California). Ben, Syarif (Ben's PA) and Matt Sims enjoyed a drive down to Queenscliff, they then crossed the bay on the ferry and made their way back up the Mornington peninsula to Melbourne stopping only briefly to chat to a friendly man in a nice uniform that wanted to let them know he liked their cars…
Once back in Melbourne the boys took a 20 minute city helicopter flight which provided some more spectacular sights of the city and the Bay. Before dropping back the cars they took a lap of Albert Park and chapel street.
They finished the day off in style enjoying a beer at a couple of bars and one of Melbourne's finest restaurants!
At this stage it looks like there will be 4 -6 agents that will make the 'Legends Club' for 2013.